— Click on an album cover to learn more about the music . . .
— Elixir: Music for Moving and Still Meditation —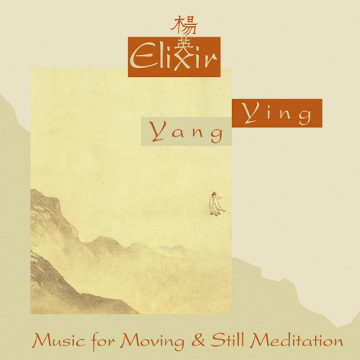 About This Album
According to traditional Chinese medical theory, music has healing properties. Indeed, the Chinese character for music is the major part of the ancient Chinese character for medicine. Also, the Chinese character for happiness and music is one and the same!
Initially created for use in a taiji/qigong intervention study at the University of Illinois, Elixir is a music CD for moving and still meditation practices. This CD is unique in that it was composed and performed in entirety by both a master traditional Chinese musician and longtime practitioner of qigong meditation.
Composed around "the five notes" (i.e., the pentatonic scale) and making use of both traditional Chinese instruments and modern synthesizers, Elixir is a contemporary Chinese recording with beautiful melodies that may used as an accompaniment to your moving or still meditation practice or simply enjoyed for the beauty of the music. Some tunes were designed to help lead the practitioner to a state of quietude and peacefulness, while others are simply joyous musical expressions of the ineffable experiences and sensations of moving and still meditation.
Composer Notes
The title of the first song, Lunhui, means "circle." The piece begins with gong and chimes (common percussions in ancient Chinese music), and Beijing opera style percussion. The melody is played with the sounds of zheng (an ancient type of zither), dizi (flute), and erhu. This piece is a nice accompaniment to moving meditation, such as the Taiji form.
The second song, Wandering, is inspired by Daoist philosophy. It combines musical styles from Shandong and Henan provinces, the native place of Laozi. Two differently tuned erhus and the zheng play the melody, and traditional monastic wood blocks are used for percussion. This is an entirely improvised composition.
The third through fifth pieces are a serial work, all musical expressions of various sensations and experiences encountered in meditation. The third piece is a musical representation of the ethereal experience at the beginning of standing meditation, when the head is touching heaven and the feet are connected to earth, and the inner feeling when the three things (heaven, human body, and earth) merge to oneness. The fourth piece, Purification, is similarly a musical expression of experiences in sitting meditation. The fifth piece, Circulation, expresses one type of feeling that may flow from the quiescence of meditation, the physical feeling that the heart is warm and blood and energy is flowing, and an accompanying emotion of love and beauty. This song begins with a western classical style motif, and flows into an improvised melody that is a combination of jazz, blues, and traditional Chinese music.
The Chinese believe that all of nature is a source of vital energy, or qi, and the beauty of nature has always been a source of inspiration in Chinese music. The portrait in Morning Immersion is one of the rapture of breathing in pure air in the early morning in a pristine forest, with the birds beginning to sing and the calming sounds of a mountain stream in the background.
The final composition, Aspiring Emptiness, includes an electronic combination of two types of zithers - the zheng and qin - and improvised ehru melodies. The qin is an ancient instrument that was a favorite of Chinese literati.
Reviews
Steve Sheppard, One World Radio "A really different and exciting release by Yang Ying, music for Moving and Still Meditation is as refreshing as the day is new. . . (track 5 "Circulation" is) a musical masterpiece. . . Yang Ying is clearly not only a talented artist, but a masterful musician who can turn her hand and her skills to even implementing a touch of Jazz, mixed with a delicate platter of blues and a serving of really clever and well worked improvisation. . . (Elixir is) uperbly crafted, extremely well produced and constructed by a musician who really knows her subject matter entirely. At the end of listening to this album I felt refreshed, calm and musically nourished." Full Review
Musik Reviews "This album is a work of art. You won't want to turn it off. Ever." Full Review
Improvijazznation Magazine ". . . my personal favorite track was the 14:39 "Circulation". . . one of the most moving pieces of music I have ever heard. I give Yang Ying a MOST HIGHLY RECOMMENDED . . ." Full Review
Lee Armstrong "A Treasure. . . Elixir captured me as soon as I spun it in the changer. . . The tracks on this CD have varied moods, which appeals to me greatly" Full Review
Michael Diamond ". . . I thoroughly enjoyed the exotic world Elixir draws you into that's both ethereal and earthy – yin and yang. I'll enjoy listening to this over time to experience its musical medicine." Full Review
— Blurring Boundaries: Erhu Excursions —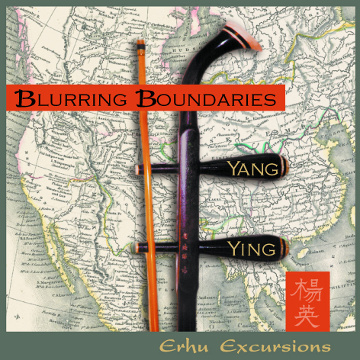 Composer Notes
Uninhibited

. Inspired by native Mongolian music and drum styles famous in Xian. Also includes American jazz, rock, and funk influences. Written in 10/8 and 11/8 time signatures.



Confiding in a Friend

. This song incorporates two distinct styles of Chinese music—odd meters common in Xinjiang music in northwest China, and the smooth "silk and bamboo" music from Jiangnan (Yangtze river delta), with Western jazz influences.Improvisation is a very important aspect in much of the folk music of China. When writing this song I improvised the melody and, so that western musicians may accompany me, I then went back and calculated the cord changes and meter. It begins a bluer minor key, and then switches to a more upbeat major key.The song naturally adopted a combination of 7/4 and 6/4 meters. The odd meter may at first feel unusual to some, especially since almost all Western "pop" music is in 4/4 time.



'Round Midnight

. Cover of Thelonius Monk's classic jazz piece that is especially beautiful played on the erhu.

Sai Ma (Horse Race)

. A traditional, signature piece for the erhu, inspired by the Mongolian peoples' love of horsemanship.

Jiang He Shui (River of Tears)

. This is a traditional folk song from northeast China. Yang Ying won first place in a national erhu competition in China 1986 performing this piece.

Funky Chinese Jig

. An upbeat dance sang, characteristic of the musical flavor of the Miao tribe of southwestern China— with a combination of western funk and Nashville guitar (check out guitarist extraordinaire Matt Stewart's solo in this piece). The Miao are a colorful people who enjoy singing and dancing.

Han Gong Qiu Yue (Autumn Moon over the Han Palace)

. This is a very famous and ancient instrumental piece—the earliest known written score dates to the 1600s. It expresses the sadness of a maidservant's imprisoned life in the emperor's palace during the Han Dynasty (202 BC-AD 220). The melody of the music is narrow-confined to a specific range of notes. This is characteristic of the traditional way to play the erhu-the hand is held in one position on the neck of the instrument. The style also typifies the life experience of women at that feudal time, which was also limited to a defined, narrow function.

Inflection is extremely important in both Chinese language and music. Great emphasis is therefore given to the proper articulation and inflection of each musical tone, as opposed to technical expertise or speed. The intention of traditional Chinese music was not to amuse, but rather as an expression of feelings and as a sort of "purification" of one's thoughts. It is the subtle changes in tone color that is prized for expressing the emotion of the music.

Sanmen Gorge Capriccio

. A famous traditional piece. Composer Liu Wen Jin is well known for including influences from western classical works and violin techniques in his compositions for the erhu. This piece was especially influenced by classical Russian music.
Reviews
Ralph Jungheim, Music Producer "Yang Ying is a fiddling phenom in every genre from jazz through classical to classical Chinese. A wonderful artist on a wonderful CD."
Chungliang Al Huang "One of our most honored Erhu virtuosos from China, Yang Ying's CD is remarkably innovative— indeed, "blurring the boundaries" of classical Chinese, with jazz and creative improvisations. It is brilliantly conceived and performed."
Pamphlet Press "Blurring Boundaries is an eclectic mix of musical styles that bridges east with west, past with present, and classic with contemporary and is unlike anything you've ever heard before. The caliber of musicianship is superb; its exquisite resonance puts the work, without a doubt, at the top of the musical food chain."
Burnett Thompson, Jazz Pianist "Moving around repertoire outside the traditional Chinese musical language is dangerous water for the erhu player. Yet Yang Ying seems to easily override the problems that other erhu soloists have in this area, notably in intonation."
Dan Andries, Chicago PBS TV Producer "Ying's virtuosity goes beyond impressive technical achievement . . . the expressive power of her playing truly transcends any challenges that might exist for an audience to experience an unfamiliar instrument . . . the audience was deeply moved by her performance."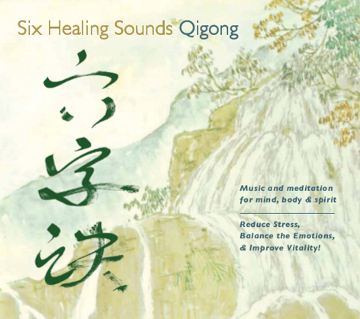 About the Music
"Six Healing Sounds" (Liu Zi Jue) is a chanting/vocal toning meditation with a documented history dating back more than one thousand years, and is one of the oldest qigong meditation practices in China. Using musically timed intervals as an aid to signal inhalation and exhalation, this unique music program is designed to both facilitate learning, and to deepen the practice, of the ancient six healing sounds qigong practice. For each sound, Ying has created meditation music centered around the chordal tonality of the sound. The music may be used as an aid to your meditation practice, or just enjoyed for the serene and peaceful beauty of the music.
The CD contains 7 tracks, including an approximate 4 minute beginning meditation (standing repose) followed by each of the sounds in order: Xu, He, Hu, Si, Chui, and Xi. The tracks are uninterrupted by pause, but each track is individually accessible with your audio player track search function.
Note: The music CD does not contain instruction and is intended for those who are familiar with the standard methods for vocalization, facial structure, and exhalation imagery. Though no instruction is provided, inhalation/exhalation intervals should be fairly obvious after listening to the music. If you are interested in learning how to do the meditation, Ying has also produced a 1.5 hour instructional video.
Instructional DVD
Check out the instructional DVD video preview here. With approximately 1.5 hr of instruction, the DVD includes the following sections:
Introduction and History of Six Healing Sounds
Fundamentals:

Posture (applicable for all qigong exercise)
Breathing - normal and reverse breathing for Six Healing Sounds practice, and instruction with graphic imagery on how to use the music to coordinate inhalation/exhalation with the music program

Learn the Sounds - instruction in how to properly vocalize the six sounds, including information on correct facial structure and exhalation imagery (essential for effortless vocalization of the sounds). Following instruction and a key point summary, you may practice each sound 6 times with Ying in a short "follow me" practice
"Follow Me" - an approximate 25 minute uninterrupted practice session including a brief (4 minute) meditation, followed by practice of all 6 sounds
DVD menu links are provided for each of the above sections, and a video sub-menu provides links to instruction for each sound as well as a "key point summary" for quick review of proper methods for vocalizing each sound.